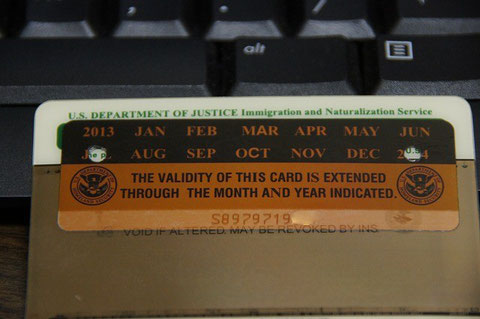 The validity of my US. green card has been just extended till July, 2014 after they took my biometrics yesterday at U.S. Citizenship and Immigration Services in Honolulu.
So far the process of renewal was fast and easy, but I think this validity means, it might take time to receive my renewed green card which should be good for another 10 years.
Honestly speaking, I was nurvous when I was going to visit the office in Honolulu, because the Notice letter says,
"To Process your application,the U.S. Citizenship & Immigration Services (USCIS) must capture your biometrics.  Please appear at the below application support center at the date and time specified.  If you fail to appear as scheduled, your application will be considered abandoned and denied."
But I'm glad my worry was nothing.  I just filled up sign-up paper and they took my fingerprints and ID photo for my new card.  It only took 5 minutes.   To my surprise, I was told," You may smile for a new card."  while no smile was allowed when I applied to the green card before.  The biggest surprise I had on Oahu was a traffic jam.  It took one hour from airport to the USCIS office in downtown in the morning while it only took 25 minutes from Lihue to Honolulu!