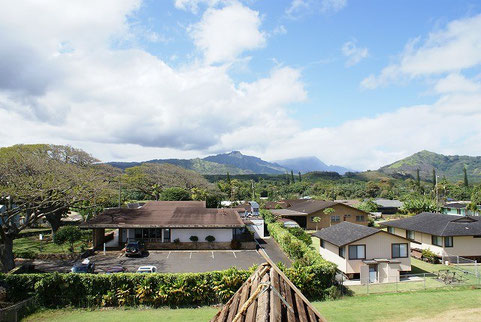 When I climbed up at the very top-roof of the old temple building here at Koloa in March 2009, Mr. Hattori, the master carpenter from Japan, taught me something very interesting.
He asked me, "Aren't you frightened to be such a high place?"
 I replied, "Yes, I'm very scary.  But I wanted to take some photos up there. "
Then he told me," I'm glad to hear you are scary.  You will not be falling down as long as you don't forget the feeling of scary.  The one who apt to fall down is always the guy who has no fear at all."
I recalled his saying because I've just encountered the similar story which was written by Yoshida Kenko about 680 years ago.  He was a Buddhist monk. 
Interestingly, he was not famous as a monk but famous as an essayist.   His collection of essays called "Tsurezure-gusa" is still very popular in Japan.
Here is a story titled "A famous Tree Climber" in "Tsurezure-gusa."
Once upon a time, there lived a famous man called "Master of Tree Climber."  
When he ordered his men climb high to the tree to cut off some branches, he said nothing to them while they were working at dangerous position on the tree.
It was when they came down to the lower position, he finally warned his men,
 "Pay attention!  Be careful about getting down." while it didn't look like dangerous at all.
I, the author, was watching this and asked the master,
"Why did you give them warning in such a safe position?  I thought they could jump easily."
Then master replied,
 "Good question!  I didn't say anything when they were working at high and dangerous position because they knew they had to pay attention.  But mistakes or failures always happen when people think it's O.K. and safe."
The author continued to comment, though he was not a noble man, but I thought he was telling the same truth as well as noble saints left to us.  
After reading his story, I thought the saying, "Security is the greatest enermy" was  one of the universal truths. 
Interestingly, there was an English writer who left this kind of saying.
It was William Shakespeare and written in Macbeth!  
"And you all know, security
Is mortals' chiefest enemy." (Macbeth, Act3. Scene 5. Page 2)
2009年3月のことです。旧本堂の修理で、屋根のてっぺんに上がって写真を撮っていた時、大工棟梁の服部親方から面白いことを教えてもらいました。
親方「先生は高いところ平気か?」
私「いえいえ、とんでもない。すごく怖いです。」
親方「怖いなら大丈夫。先生は落ちないよ。時々、高いところでも平気なのがいるけど、そういう奴は逆に落ちちゃうんだ。恐怖心を持っていると用心するだろ、何事も油断は大敵。」
私「なるほど~!」
たまたま今朝、徒然草の一節を読んでいた時、4年前の何気ない会話を
ふと思いだしたのです。
その章の題名は「高名の木登り」。
著者吉田兼好が、実際に木登りの名人から見聞きした
「なるほど!」といった内容です。
ある時、木登り名人が、
見習いを高い木に登らせて、梢を切らせたときのこと。
人が見ていて、
はらはらするぐらい高いところで仕事をしている時には、
一言も発しなかった名人が、
軒の高さにまで降りてきた段になって、
「気をつけて降りなさい」と言ったそうな。
その一部始終を見ていた著者の兼好法師が、
「あれぐらいの高さだったら、ジャンプしても降りられるのに、
なんで、あのタイミングで言ったのですか?」
と名人に尋ねたところ、
名人は、「目がまわるほどの高さでは、たとえ誰に言われなくても注意はする。でも、ミスというのは、「大丈夫、危なくない」と思ったときに起きるものなんだ」
と言ったそうです。
兼好法師は、この一言に深く感銘をうけ、
「名人はたとえ身分は低いかもしれないが、言っていることは古の聖人が言い残したことと同じだ」と書き残しました。
これが「高名の木登り」です。
この話を、ことわざで一言で言い表すと「油断大敵」になると思いますが、
英語では、"Security is the greatest enermy." (直訳では、Security(安心)は最大の敵)と言い表しています。
面白いことに、油断大敵の語源は、仏教経典にあると言われ、この英語表現の語源は、シェークスピアのマクベスに見ることができます。
P.S.
久しぶりに日本語ブログを更新できました。
一番上の写真は、お寺の北側を向いて撮ったものです。隣のファーストハワイアン銀行を見下ろし、遥か彼方には雲に隠れたワイアレアレ山が見えます。