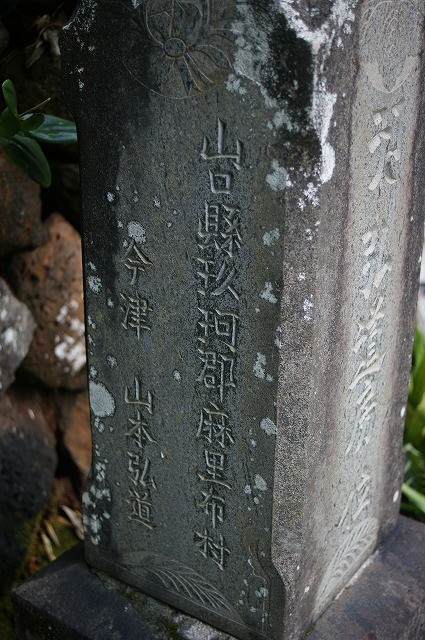 Whenever I have a memorial service, there are a few things I usually try to talk;
1.  About good things to have a memorial service.
2.  About good things to know Buddhism.
3.  About good things to realize the place where your family came from.
Especially when young people are getting together, I feel these three topics are very important and sometimes I need to take time to get information about the place where the family came from.
So when I had a memorial service last Saturday, I googled the place name called, "Kuga-gun" of Yamaguchi Prefecture where the family came from.   Though I knew many Japanese immigrants were from Kuga-gun, I wanted to know if there are anything that might interest the family.
Surprisingly, Kuga-gun was already listed on wikipedia in English.  It's now a part of Iwakuni City.  But what I happened to find interesting was a small picture of the mountain which was listed online bulletin of South district of Iwakuni City....and mountain's name was "Odaishi-yama 88 places." 
At that moment, a thrill ran through me....because the picture of "Odaishi-yama" immediately reminded me of Lawai 88 shrines.  
My intuition was telling this was an original model of Lawai and another thrill came when I recalled the first leader of Lawai, Rev. Kodo Yamamoto came from Kuga-gun!
As you may know, there are some unanswered questions such as who made 88 statues of shrines and why 88 shrines were
dedicated.....
I've started to believe the answer would be there at Odaishiyama 88 places at Kuga-gun.
P.S.
The following youtube videos are some of mini 88 shrines in Japan.
Odaishi-yama 88 Places / Kimobetsu-cho, Hokkaido
Maruyama 88 Places / Sapporo, Hokkaido
Sansu 88 Places / Sōja, Okayama
Unzen 88 Places / Nagasaki
Omuro 88 Places / Ninnaji, Kyoto
Shojuin 88 Places / Toyokawa, Aichi
Kaneto yama / Gifu