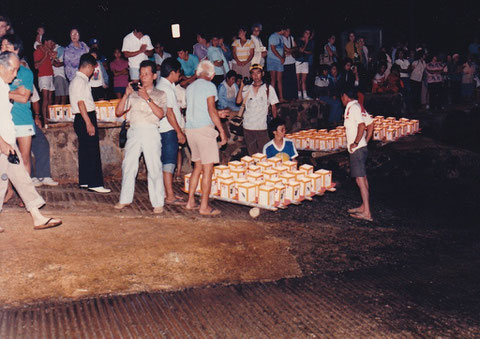 Did you see the article of Toro Nagashi, written and photographed by Mr. Dennis Fujimoto of the Garden Island Newspaper?

I always have many people that I want to thank, but today, I
want to thank Mr. Fujimoto for posting such a wonderful article and pictures on the front page of the TGI paper.

I have no idea when he started to report our Toro Nagashi,
but I see Young Mr. Fujimoto in this 1985 photo above. It was really amazing to know…..he started to write our Toro Nagashi at least nearly 30 years ago. 
However, I have a correction and additions in today's
article.

It was true that all lanterns placed in the leading boat were for the deceased who passed away between 2012 and 2013 Bon.
They are called "Hatsu-Bon" lanterns, meaning "First-time Bon."  
In other words, Hatsu-Bon people are the deceased who would experience "Bon" for their first time.  Because they are beginners of Bon, ancient people believed that they need special guidance and treatment. 
They wanted to make sure that deceased can going back and forth between this world and other world pleasantly and safely. That's why people prepared a Boat with light to the deceased so that they don't get lost.

We call this boat as"Shōrōbune (精霊船)", meaning "Boat for the spirit."  And this Boat ceremony is called "Shōrō-Nagashi" or it is called "Fune-Nagashi" here in Hawaii.
As far as I know, Jodo Mission of Hawaii on Oahu and Hawi Jodo Mission on Big Island celebrate this "Fune-Nagashi every year. Instead of lanterns, they send a boat with offering of food, drink, and flowers toward to the west ocean at the end of Bon. 

Koloa Jodo Mission used to do this "Fune-Nagashi" alone before starting Toro Nagashi in the late 1970's.   Toro lanterns are actually for any deceased but "Fune-Nagashi" or the boat is for the "Hatsubon" people.

Every year, I feel sorry that I can't place all Hatsubon lanterns in
the leading boat since room on the boat is very limited. This year, there were 4 lanterns including Mrs. Boesch's lantern, which I couldn't place in the boat.   I wanted to make this correction clearly,  otherwise it's not fair.

Anyway, thanks to your support, our O-Bon Festival this year
successfully ended last Sunday.  But my O-Bon is actually not ending. 
On this Saturday, I'm going to be a speaker at O-Bon service at Kahului Jodo Mission and from Maui, I'm directly going to Japan to help O-Bon services at my father's temple.   That's not all.

As I said before, I have many people that I want to send "Thank
you very much" letters.  Now I think I need to add "I'm
sorry, too…….that I haven't written it yet." 
It might take some more time, but I'm not forgetting your kindness and support.

After writing all the letters, I think I can say "2013 Bon is over."