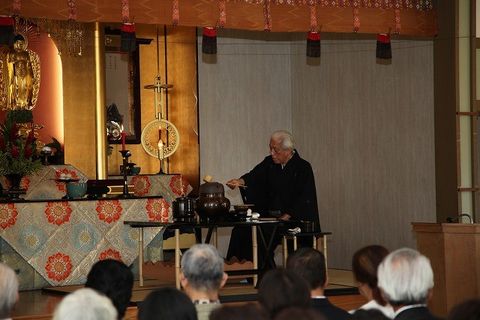 In commemoration of the 25th Anniversary of Chado Urasenke
Tankokai Kauai Association, the Grand Tea Master of Urasenke Tradition, Dr. Genshitsu Sen XV presented a Sacred Tea Ceremony at Kapaa Hongwanji yesterday.
There were local members, guests, and about 100 members from Urasenke Japan attending to the commemoration service which was officiated by Bishop Eric Matsumoto and Rev. Kazunori Takahashi.
Dr. Genshitsu Sen who is the 15th generation of the Sen no Rikyu family, dedicated two bowls of tea in front of the Buddha. Later he did a speech in Japanese that was very impressive, too.
According to an English speaking MC, one bowl of tea was offered to the predecessors who were gone before us and one for the world peace. Then Dr. Sen started to speak English!  He explained that offering of one bowl of tea was for the celebration of the Urasenke Kauai Association.   Later I knew that he had been studying at University of Hawaii for his master degree when he was young.  No wonder he is friendly. 

I really enjoyed watching Grand Master's movements during the tea ceremony.   Though I don't know much about tea ceremony, but I was able to guess his every movement must be according to the rules set by the Urasenke tradition during these 400 years.  This is just like Jodo shu has so many rules regarding the manners….how to move your hand, how to stand up….etc.   These were all set by rules.  Yet, they are beautiful, I think.
After watching a Grand mater's graceful manners, I was able to enjoy thinking the meaning of Japanese culture which was so related to rules.
To members of Chado Urasenke Tankokai Kauai Association, I thank you very much for inviting me to this rare opportunity and I'd like to express my sincere "Omedeto gozaimasu!"
裏千家淡交会カウアイ協会の創立25周年記念法要・献茶式に参列させて頂きました。会場は、カパア本願寺で、本派本願寺ハワイ教団の松本エリック総長と高橋開教使(住職)による読経があり、その後、裏千家第15代家元の千玄室大宗匠がお点前を披露。厳かに二碗を仏前に捧げられました。

司会の方の英語アナウンスによれば、一碗は、カウアイ島でなくなった(日系の)先達者のための献茶で、もう一碗は、世界平和を祈願しての献茶とのことでしたが、その後、千大宗匠が御自ら英語で話を始められ、一碗は、カウアイ協会のお祝いに、という説明が加えられました。後で、プロフィールを拝見しましたが、ハワイ大学(修士課程)に留学経験があるからでしょうか、式前と式後に気軽に参加者に声をかけていらっしゃったのが印象的でした。

肩書きが偉い人というのは、とかく人に頭を下げなくなる傾向があると思いますが、千大宗匠は、スピーチの冒頭で、松本総長と高橋開教使に対し深々と頭を下げられ法要厳修の御礼を述べられたのが、心に残りました。そのお姿は、まことに真摯なもので、仏法僧を篤く敬う心と茶道とは相通ずるものがあると思いました。