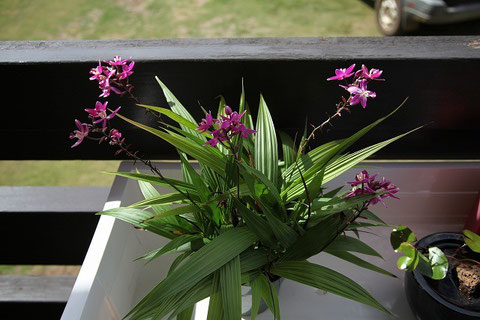 It's time for gardening which was something I wanted to do after Bon Dance.  I bought a plant of "Spathoglottis" called "Berry Banana." 
グランド・オーキッド(地生する欄)の一種で、「ベリー・バナナ」の愛称を持つスパトグロティスを一鉢買ってきました。結構な値段がしましたが、株分けできることを考えたら「妥当」、いや意外と「安い」のかもしれません。早速、一鉢を14鉢に分けました!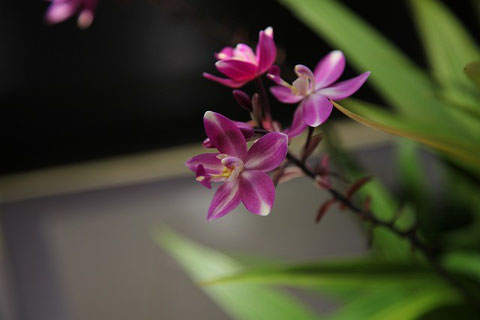 It was actuallly expensive...but thinking of propagation made me decide to get this lovely plant.   Indeed, I was able to divide it into 14 pots on the same day....and I thought this purchase was very reasonable.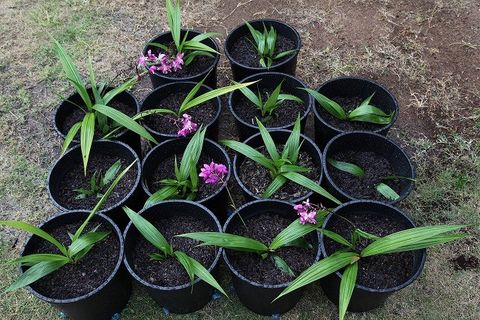 I am hoping I could increase more pots to sell at our Bon Dance next year.   The end of Bon Dance is a beginning of another Bon Dance. 
来年の盆ダンスに!と思って株分けしました。今年の盆ダンスは終わりましたが、ある意味、来年の盆ダンスの準備は、すでに始まったのかもしれません。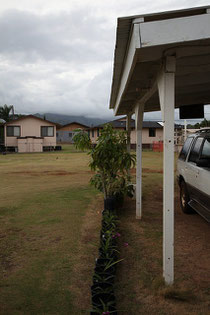 The reason why I lined up these plants here is because these plants in that line can easily get rain-water from the roof.  The more plants, the more beautiful our temple becomes....but at the same time, the more water and energy I would need....so thinking the way to save money and energy is very important for me.
株分けした鉢は、ガラージの軒下に一列に並べました。実はこれには理由があります。この一列は、ちょうど雨水が落ちる位置なので、ここにおけば水遣りの手間が省けれるからです。
植木はどんどん増えていき、お寺の美化に貢献していると思う一方、水代や手間も増えてきているのも事実です。ですから、普段の生活において、「節約」-お金だけでなく「手間」をいかに節約できるか?は、今後の重要な課題です。