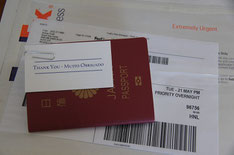 It's been over one month since I visited Brazil.  I now have some time after our Bon Dance, so I'd like to write my experience visiting Brazil before I forget.

First, I'd like to introduce how to obtain a visa for Brazil from Hawaii. Because when I tried to google for that information in Japanese, there was little information and so I thought it would
be nice to provide information of how to get a Brazilian visa, step by step for the people going to visit Brazil from Hawaii.
ハワイにおけるブラジル・ビザの取得方法について

ブラジル出張から1か月から経ちました。おかげさまで、盆ダンスも終わりましたので、これから時間をかけてブラジル訪問記をご紹介したいと思います。

まず、最初にご紹介したいのは、ハワイにおけるブラジル・ビザの取得方法です。と申しますのも、ハワイからどうやってビザを取得できるのか?グーグルで検索しましたが、日本語には適切な情報がほとんどなかったので、これからブラジルに行こうという日本人の方々に、わかりやすくビザの取得方法を説明したい、と思った次第です。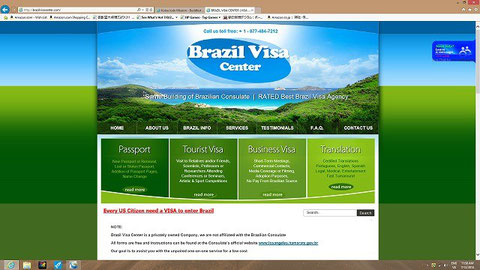 1. Planning
Plan your travel to Brazil and check if a visa is required. People from many countries need visa even for the sightseeing.
1、ブラジル旅行の計画
ブラジル入国には、たとえ観光目的であっても、ビザが必要です。ハワイからビザの取得には最短で2週間程度かかりますので、余裕をもって計画を立ててください。また、ブラジルビザの発行には、パスポートの有効期間がすくなくとも6か月以上の余裕とパスポート査証の余白が1ページ必要です。ビザを申請期間中、パスポートを提出することになりますので、その間は国外に出られません。ご注意ください。
 
2. Preparation of application.
You need to apply visa to the closest Brazilian Consulate in USA. From Hawaii, you need to submit application to the Brazilian Consulate in L.A.
Because they don't accept applications by mail, you need to go directly to the Consulate or you need to ask the agent/service to apply for the visa on your behalf.   From Hawaii, it would take two or three weeks to obtain a visa by way of Visa agent. 

2、ビザの取得準備
アメリカにおけるブラジル・ビザの発行は、ブラジル領事館で行われます。居住する州によって領事館の管轄が異なり、ハワイからの場合、最寄りのロサンゼルス総領事館にビザを申請することになります。しかし、ビザの申請は、郵送では受けつけていないため、直接領事館に行くか、代行サービスを利用する必要があります。
3. Make reservation for the flights
You will need a proof of travel, such as flight itinerary from the airline or travel agency or copy of airline or cruise tickets
when you apply for the visa.  So make reservation for the flights to Brazil.  I did choose to go there from Lihue to L.A., L.A. to Detroit, and Detroit to Sao Paulo. 
3、飛行機の予約
ビザ申請の前に、飛行機の予約が必要となります。ハワイからの直行便はありませんので、飛行機を乗り継いでいくことになります。私は、リフエからロス、ロスからデトロイト、デトロイトからサンパウロというルートを選びました。
4. Visa Application online.
https://scedv.serpro.gov.br/frscedv/manterVisto.do?lang=eng#inicio
You need to complete four pages of visa application online.  And print out all four pages to attach your photo and signature according to the guideline.  If you can directly go to the Consulate in L.A., , bring these application with your passport and other documents and make a payment for the fee.  
This is the fastest way to obtain the visa but you need to go to the Cousulate again to pick up visa,too.  I believe most people from Hawaii will have to ask agent to apply onbehalf.
4、オンラインでのビザ申請 
https://scedv.serpro.gov.br/frscedv/index.jsp
つぎに、私はブラジル領事館のウェブサイトからオンラインでビザ申請書をタイプし、提出しました。ここで注意が必要なのは、オンラインの記入はあくまでも仮の申請であって、本当の申請は申請書を提出しなければなりません。したがって、オンラインの申請を忘れずにプリントアウトする必要があります。
ただ、より分かりやすい順番としては、飛行機の予約後、ビザ代行会社を選んで、その会社のガイドラインに従った方が賢明だと思います。
5. & 6.  Choose agent to apply for the visa
There are some companies and agents to do for you.  I did notice that there were some compaines in the same building near Brazilian Cousulate in L.A. and I chose Brazil Visa Center and followed ther guideline.  It was an easy instruction as compared to the company which Delta was recommending.  
TOURIST VISA REQUIREMENTS
WHAT TO SEND THE AGENT IN ORDER TO OBTAIN YOUR VISA TO BRAZIL:
PASSPORT
You must send the actual passport, which must be:
a) valid for at least six months from the date of arrival in Brazil.
b) must have at least ONE BLANK VISA PAGE, (Amendment pages are not visa pages).
c) must be signed
d) cannot be damaged
If you need to renew your passport passport or additional pages:  
This e-mail address is being protected from spambots. You need JavaScript enabled to view it 
VISA APPLICATION
a) Each traveler must fill out a 4 page online visa application form click on the link for the form https://scedv.serpro.gov.br/frscedv/index.jsp,
b) click on VISA REQUEST and complete all fields of the application.
c) click SUBMIT button on the last page. An electronic form is sent to the Consulate General of Brazil and you will be prompt to
print the Visa Application Protocol Page. Choose YES.
d) After printing the Visa Application Protocol Page you will need to do two things on the application protocol page:
1) Glue only ONE 2x2 passport photo front view, with white or clear background, on the square between the two small barcodes.
Snapshots or computer pictures are not accepted (DO NOT resize your photo, no tapes nor staples).
 2) Applicant's Signature must be inside the signature rectangle. Parents can sign applications of minors if they can not write.
Note: unsigned visa applications will be rejected causing a delay.
The submitted application expires in 30 days. Visa application must be submitted to the Consulate within that time.
PROOF OF RESIDENCY
Photocopy of a driver's license, ID or utility bill showing your name and your address is required as proof of residence. (NO PO BOX ADDRESS)
The Brazilian consulates require applicants to submit visa applications within their jurisdictions.
To see all Consulate of Brazil jurisdictions in the United States click here
PROOF OF TRAVEL
Computer generated flight itinerary from the airline or travel agency or copy of airline or cruise tickets.
It must show the name of the visa applicant, dates of departure from and return to the United States, places of arrival in and departure from Brazil.
NON-US CITIZEN
In addition to all visa required process you must provide one of the following:
a) Copy (front and back) of your Alien Resident Card;
b) or a Copy of valid visa for the return to the US or to another country.
5、ビザ申請代行会社・エージェントの選択
次に、ビザ申請を代行してくれる会社を選びます。ほとんどの代行会社、エージェントが、ロスのブラジル領事館の近くに集中しているようで、グーグルで住所を調べた際、同じビルにいくつも会社が入っていました。大体、どこを選んでも似たり寄ったりの料金設定、サービスだと思います。
私はBrazil Visa Centerを選びましたが、質問に対する対応もよく、料金もリーズナブルでした。飛行機を予約後、飛行機会社がオンラインで推薦していた会社は、より慎重なのか?提出書類、たとえば、パスポートもコピーして提出、とあり面倒に思いました。
6、必要書類の収集・送付
Brazil Visa Centerの指示に従って、ビザ申請に必要な書類を用意しました。
代行会社・エージェントへ送る必要書類
I、     パスポート(有効期間が少なくとも6か月以上あること、また査証の余白ページが1ページあること)
II、      オンライン申請のコピー。オンラインhttps://scedv.serpro.gov.br/frscedv/index.jspで申請したものをプリントしたものに、顔写真(2インチx2インチ)をのり付けし、名前をサインする。
III、      居住の証明書。私は、ハワイの運転免許をスキャンし、プリントしたものと電話代(名前と住所が記載されている)の請求書のコピーを提出しました。
IV、       旅行の証明書。飛行機の予約番号あるいはチケットのコピー。
V、        グリーンカード(表裏両面)のコピー。
 7. Payment to the agent
Pay the visa fees by online and the visa fee for Japanese was $45 and visa service fee was $49, $10 for Money Order convenience fee + Fedx Shipping fee.
7、ビザ料金、申請代行手数料の支払い
オンラインで料金を支払います。ビザの代行料金が、49ドル。領事館への申請料金が45ドル、そして返送料金、手数料で合計150㌦ぐらいになりました。
8. Shipping and Receiving Passport.
Send all the necessary documents to the agent (Brazil Visa Center) and wait.   I shipped all ducuments including my passport on May 4, 2013 and received a visa on May 21, 2013.
8、必要書類の送付。
支払いの後、Brazil Visa Centerに必要書類を送付。あとは待つばかり。
5月4日(土曜日)にコロアの郵便局から送付し、5月21日に待ち望んだビザが届きました。