I'm always thinking how to reuse the things not only for trying to save money but also for the inspiration of how to get new ideas.
But of course, "the idea itself of reusing" is not mine but our human beings'.  
The great cultural movement of "Renaissance" was, in a sense, born by the idea of reusing the old cultures of Greek and Roman. And a Novel Prize Winner, Professor Shinya Yamanaka's discovery of iPS cells was also, in a sense, based upon the idea of reusing of stem cells. 
So I believe the idea of reusing or recycling can be a great source of cultures and a keyword for the future.
私はよく「ものごとの再利用」について考えていますが、この「再利用」というアイディアは、お金の節約になるだけでなく、新しい考え方、発想のヒントが隠されていると考えています。
たとえば、中世のルネッサンスとよばれる文芸復興運動。ルネッサンスとは「再生」を意味しますが、ある意味これは、ギリシア・ローマ文化の再利用ですし、昨年ノーベル賞を受賞された山中伸弥教授のiPS細胞の開発も、再利用という考え方が根底にあるように思います。
温故知新という諺もありますが、再利用に限らず、古の文化には新しい文化の萌芽があり、ものごとをいかに再利用できるか?は今後のキーワードであると信じています。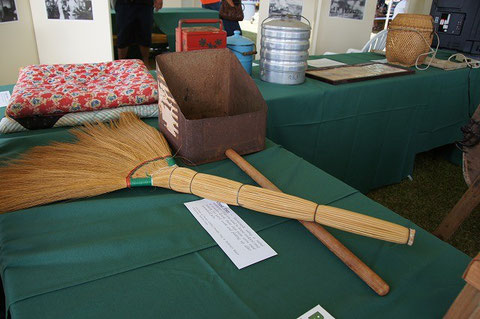 We, people in Hawaii, are very lucky because we can see various ideas of reusing because many people from many different cultures have brought ideas and they were mixed with Hawaiian culture. 
For example, this is a dust pan which was homemade out of a metal container, displayed at Koloa Plantation Day.  I think many old people are familiar with this but here at Koloa Jodo Mission, we have four of this kinds and still using them.
いうまでもなくハワイは島国です。島での資源は限られていますので、多くの人間が生きていくためには、外からの物資の輸入に頼らねばならない一方、少しでも物資を節約し、再利用するという考えが自然に生まれました。また、多くの移民がそれぞれの文化をハワイに持たらした結果、私たちは現在いろいろな再利用の工夫を生活の中にみることができます。
たとえば、上の写真の塵取りです。英語で「ダスト・パン」と呼んでいますが、この塵取りは、スチール製のクッキー缶の再利用。毎年7月の下旬に開催されていますコロア・プランテーション・デーでの展示ですが、実は当寺院には、これが4つもあります。
This is my favoraite dust pan which was made by Uncle Murashi.   Since I'm using this everyday for nearly 14 years, I did miss it when I did yard work at my father's temple in Japan.  So I'm trying to go with this dust pan whenever I go cleaning if it's on Kauai.
これは私のお気に入りの塵取りで、大工のアンクル・ムラシが寄贈してくれました。14年の間、ほとんど毎日この塵取りを使ってきていますので、これがないと掃除が不便に感じます。特に日本の実家で庭掃除を手伝った際は、この塵取りがなかったためにとても不便に感じました。