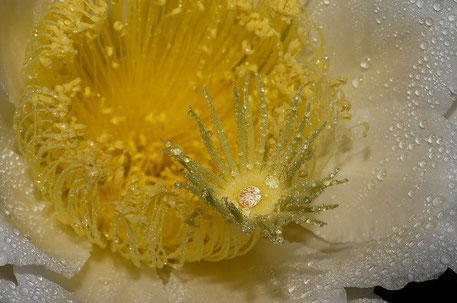 In Japan, Dragon Fruit Flower is known as "Gekka-Bijin(月下美人)"  which literally means "Beautiful person(lady) under the moonlight."   This flower is truly gorgeous...and even precious if you know that it only blooms once, only one night a year.  
The flower usually starts blooming in the evening and is in full bloom around midnight and it will be down next morning. It's so fragile but because of this fact, I think, this flower is so beautiful.
Believe it or not, I started to dream this dragon fruit flower could bloom for our Bon Dance since I saw a growing bud last week and it came true last night during our Bon Dance.  
To those who came to our O-Bon festival this year, I thank you so very much for your presence here at Koloa Jodo Mission.  Especially, my big Mahalo to all dancers, drummers and singers who came here to perform for Koloa Jodo Mission for both nights.
And my biggest 
Mahalo
to our members and friends who have kindly supported Koloa Jodo Mission.
英語では、夜間に咲く花をNightbloomingFlower(ナイト・ブルーミング・フラワー)と呼んでいますが、月下美人(げっかびじん)として知られるドラゴンフルーツの花は、1年に1度だけ咲くとてもゴージャスな花です。夕方から花弁が開き始め、真夜中に満開、そして朝日を浴びる頃にはしぼむというなんとも儚い花ですが、儚さと美しさは、表裏一体のものかもしれません。
実は、先週つぼみを見つけて以来、当院の盆ダンス期間に開花してほしいと願っておりました。ありがたいことに、昨晩それが見事に実現。おかげさまで、両晩とも多くの方々に足を運んでいただき、またお天気にも恵まれ大盛況に盆ダンスを催すことができ、とてもうれしく思っています。多くの方々に感謝したいと思います。本当にありがとうございました。マハロ。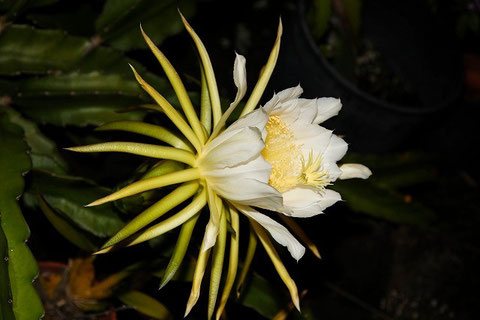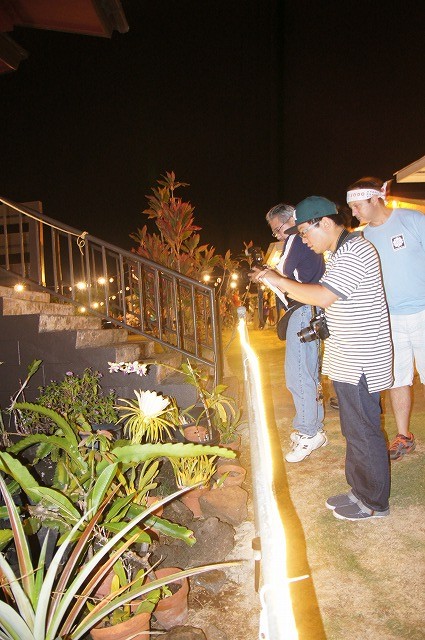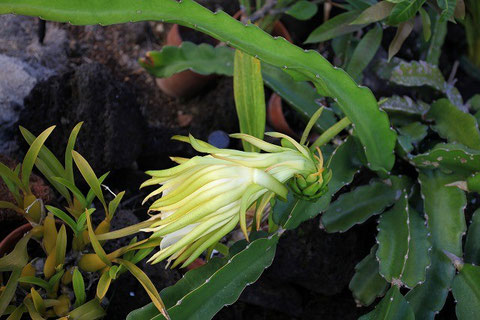 This was after receiving sunlight.  It looks so fragile and sad, but this is not an ending!  It's an another beginning of dragon fruit.   I've found some photos from my photo album.  The following was taken here at Koloa Jodo Mission in August, 2010.