Aloha!  It's been ages since I updated this blog.  After visiting Sao Paulo and Maui, I have been hanging around with friends….a great Buddhist teacher, Khenpo and his wife, Ariel who is a great supporter of Buddhism and also a graduate student of Harvard University.
During the time, we spent most of the time for shooting spiritual movie, written and directed by Ariel and I was treated "as a star" every dinner and lunch ....Italian food, Mexican food, Indian food, Chinese food, Local food, American food, Japanese food....It was something like traveling foreign country every day!  I really enjoyed a director says "Which country tonight?"   They took me restaurants I had never been before.  I had spent truly wonderful time with them and we are now like Ohana, a family.  Indeed, I was deeply moved by their kindness that they joined in our membership in order to support our temple!
Filming a movie was completed yesterday when a supermoon rise from east.  Although it was cloudy at west Kaua'i, I did enjoy taking photos of supermoon at one of the most beautiful places on Kauai.  It was incredible beautiful and unforgettable event.
Now they are back to Boston and for me, it's time to get back to my job... Especially O-Bon is just around the corner, I will work super-hard for our temple.
アロハ!大変ご無沙汰しております。ブラジル、そしてマウイから帰島後、すぐにブログを更新する予定でしたが、ボストンの親友夫婦が、美しいカウアイ島、また仏教僧を題材にしたスピリチュアルな映画を撮りたいというので、制作に全面協力することになりました。
詳しいことは、できてからのお楽しみですが、ここ12日間、朝から晩まで毎日彼らと映画づくりに没頭、、、。地球と月との距離がもっとも近くなる満月、スーパームーンが東の空に昇るシーンをもって無事撮影を終了することができました。その後、彼らからメンバーとして当寺院を支援したいとの申し出と寄進をいただき、大いなる感動とそして将来への大きな希望、そして新たなプロジェクトを思いつきました。
間もなく、お盆の諸行事を迎えますが、準備におくれた時間を取り戻すため、しばらくは寺務・法務・作務に専念したいと思います。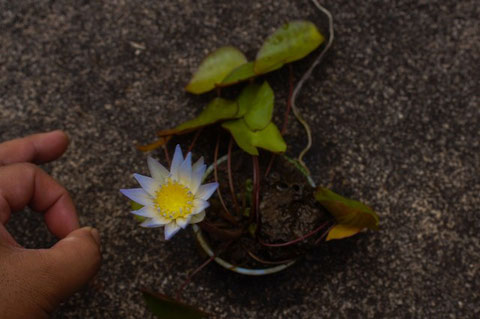 Interestingly, my smallest water lilies bloomed first time one by one yesterday and today...maybe because of a super full moon.