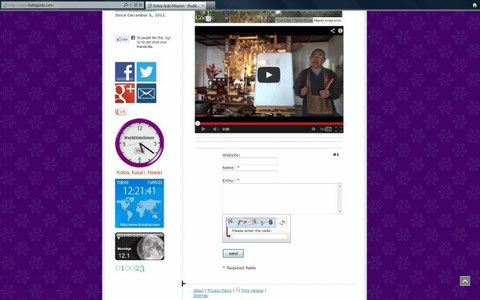 The blog-parts to count viewers of this website have reached 10,000 since I launched www.koloajodo.com in December 2012.  This doesn't mean 10,000 people visited here, but total numbers of pages viwed by visitors have reached 10,000 (it's called PV or Page View.) 
As compare to what I'd like to tell or share, numbers are not so important.  But this number actually surprised me, because it took about 2 years to reach 10,000 pv since I started my Youtube channel.  So I am simply happy to have many PV at this time and I'd like to thank you very much for coming to www.koloajodo.com ....and  Mahalo x 10,000 times!
Now I have a question for you.....Rather, I'd like to hear your comments if possible....What do you think...my most popular article-post on this website?  
Or Which article do you like the best?  or which article can you recommend people?
Once again, I thank you so very much for your support.
アロハ!
有難いことに、昨年の12月にホームページを立ち上げて以来、訪問ページ回数が1万回に達しました。この訪問ページ回数はPVと呼ばれるもので、ホームページ内のページを1回クリックするごとにカウントされる数字です。したがって、正確な訪問者数でもなければ、客観的な人気を示す数字でもありません。
また、私が伝えたいこと、シェアしたいと思っていることに比べれば、数字は重要ではありませんが、半年足らずで1万PVに達したことは素直にうれしい、と思っています。というのも、2009年にはじめたユーチューブのPV1万回には2年を要しましたので、ユーチューブに比べれば、ものすごい勢いで訪問ページ数が伸びているといえます。
常連の読者の方、あるいは、たまたまこのページにいらっしゃった方、数あまたあるウェブサイトの中で、当ホームページへご訪問くださって誠に有難うございました。気持ちだけで恐縮ですが、感謝x10,000回!
                   マハロ、コロア浄土院 石川広宣