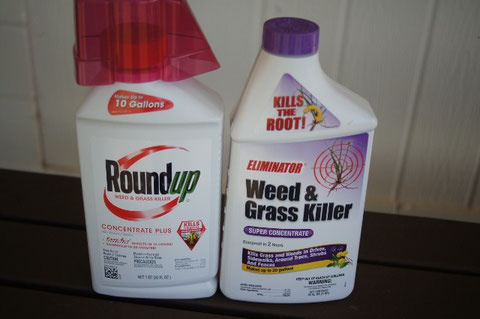 As you know, Roundup is a brand name for weed & grass killer. They say this is No.1 product and it is famous in Japan, too.
Here at Koloa Jodo Mission, we had used it for a long time, but last year, I stopped buying Roundup for weed & grass killer because I found something much cheaper at Walmart.   It was Eliminator(1Qt) which can make 20 gallons of herbicide and it cost about $15.   On the other hand, a brand-name Roundup(1Qt) costs about $28, which can make only 10 gallons of herbicide.
So, one time, I tried Eliminator and it worked good. Thus I've become an Eliminator-user.   Though I didn't have any complaint about it, but all of a sudden,  I came to have a question....is it for sure....Eliminator is better than Roundup? ......So I decided to compare how they work and how long do they last by using them at the same time since yesterday, May 18, 2013.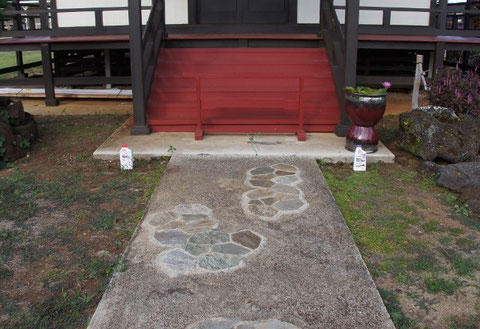 I sprayed Roundup at left side of the old temple and Eliminator at the right side of the old temple. I'm going to upload the picture...from time to time... to see how the weeds will be.
If you are interested in the result, please bookmark this article's URL.    I'm going to add much more pictures here.......In case I forgot to upload pictures, I would very much appreciate your reminder like....."hey, Sensei, what happened to the Roundup?"
By the way, I found one of the reasons why Eliminator is not so expensive is because its rainproof is not so good as compared to Roundup.....