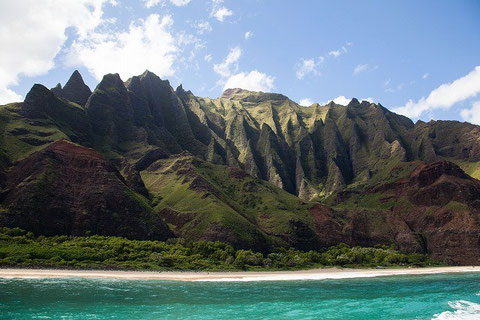 "Vedi Napoli e poi mori(muori)" is an Italian saying, meaning "See Naples and then die."   This saying indicates the town of Napoli is absolutely worth seeing and you should visit it before you die....
After seeing NaPali Coast for MY FIRST TIME yesterday, I thought "NaPali" was a place of must-see of Kauai and I've made new saying...."See NaPali and then die." 
Japan has also same kind of saying.   It's "Nikko" that you have to see and it says, "Nikko wo mizushite Kekko to iu-nakare!"
It means,
"Don't say, "You are enough (for sightseeing )" until you've seen Nikko."
I have not seen both Nikko and Naples, but I was so very grateful for living in the amazing island of Kauai....and a big Mahalo to Captain Sean and Kumu Leina'ala for taking us to NaPali Coast.
イタリア語に、「ナポリを見て死ね」という有名な諺があります。英語訳では、「See Naples and then die」といいます。ナポリはイタリア語で、英語はネープルスと呼びます。ちょうどベネッツィア(伊語)をベニス(英語)と呼ぶようなかんじです。)
勿論、この真意は「ナポリを見たら死んでしまえ」ということではなく、「死ぬ前に一度はナポリを見た方がいい!」という意味ですが、昨日、カウアイ島の「ナ・パリ」海岸にはじめて上陸して、この諺を思い出した次第。「ナパリをみて死ね」とパロッてみました。
ちなみに、日本語の諺では「日光を見ずして結構というなかれ」といいますね。ナポリも日光もまだの私は、「観光はこれで結構」という心境ではないのですが、カウアイ島のダイナミックで美しい自然をあらためて有難く思いました。
今回のツアーには、カウアイ島が誇る名クム・フラ、レイナーラ先生主催のフラ・ワークショップの一環で、通訳(兼写真)として参加させていただきました。ボートを貸しきって案内くださったレイナーラ先生とご主人のショーンさんに、一言ですが、心よりマハロを送りたいと思います。
P.S.
フラ・ワークショップの内容はカウアイ島在住13年の私が素晴らしい、と自信を持っておススメできる内容です。参加のお問い合わせ、、、お待ちしています。(主催の方をご紹介します) 、、、といいつつ、実は私もフラ習いたいと思っています(苦笑)。