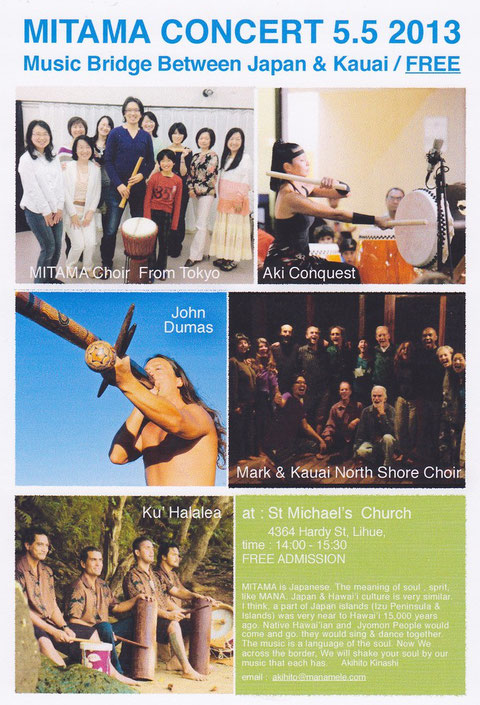 A Japanese singer, Mr. Akihito Kinashi has just visited us here at Koloa Jodo Mission to ask us pass some flyers of his concert on this coming Sunday, May 5th at St. Michael's Church.
Akihito and his wife, Nami were staying on Kaua'i last December and he did have some mini concerts, including here at the new year's eve service.
This time, they have brought a total of 11 choir members from Tokyo, according to Akihito.    There will be also Taiko Performance by Mrs. Aki Conquest and some more performances by local musicians.
The concert starts at 14:00 - 15:30 at
St. Michael's Church
4364 Hardy Street, Lihue
There will be no admission.
My recommendation on that day is to go to Lihue Hongwanji for Children's Day Event in the morning and in the afternoon, go to St. Michael's Church!
Also you will be welcome here at Koloa Jodo Mission for Sunday Service.   Last Sunday, I was very happy to have a visitor from New York and Uncle Jim and Auntie Kim at the service.    Since our regular attendees were in mainland, I expected nobody at the service.....but I thought persistence would pay off and it was very important not to give up but keep doing the service whether people come or not.  
Happy Children's Day!