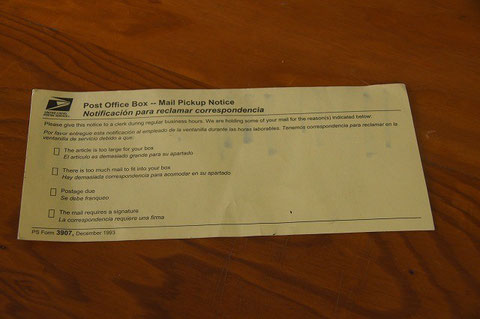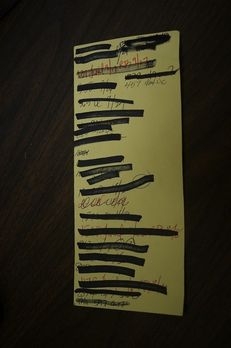 This is a backside of Mail Pickup Notice from USPS Koloa Post Office.  I think this is a wonderful effort of reusing the paper.   I don't know if other post offices are doing this effort or not,  but I'd like to introduce what I thought interesting ideas of reusing as many as possible.   Actually I learned many of ideas of reusing from my grandmother who passed away in 2011.  She was 99 years old.
My grandmother, raised by a Buddhist Temple Ohana, was actually generous to temple members and others, but she was very thrifty and tight toward her family which included myself.
When she was young, she was a professional needle worker making Kimono, a farmer, and then did a priest's job after my grandfather died.  She worked so hard.  As is often the case with old Japanese, she kept everything for reusing or recycling.   I believed "Mottainai" was her favorite word.
One of the "Mottainai" things she kept was so many pieces of leftover clothes from the making "Kimono."  Because she didn't like to waste the material, she made hundreds of pouches out of the leftovers.  
Another interesting "Mottainai" she kept was human feces.  I still remember clearly our old toilet.  It was "outhouse within the house" style toilet, so-called "Kumitori-Benjo."  Honestly I didn't like it because it was dark and stink.  I was always be careful not to fall my shoes into the hole and felt scary nighttime.   One time, I fell my favorite shoe in the hole, though.
But because of this old style toilet, my grand-mom was able to take manure for compost pile and then used for raising various kinds of vegetables.   I remember this continued until our new house was built when I was 11 years old.  This was a kind of epoch-making event for my family, because I was allowed to use soft toilet paper after installing our first water flush toilet.   Before this event, believe it or not, our toilet paper was old ad-paper or newspaper.  This is just a few of our traditions.   Do you think I had a miserable youth age?  For me, it was "No" at that time.  I thought it was natural and I had no choice.   Now I think, maybe, yes. But because of this experience, I can appreciate anything.
My grandmother also taught me "every donation is precious. It's a result of donor's blood, sweat, and tears. Why don't you treasure every penny?"  
Although I'm not practicing everything I experienced like keeping manure,  but I have treasured what I learned from her and I'm also making efforts to create better environement.
As you know, Reduce, Reuse and Recycle are called 3Rs and they are basic ideas of promoting better environment.  But there are actually more Rs such as, 
Rethink
React
Remix
Reconvert
Recreate
Reform
Restore
Regenerate
Rebuy
Repair
Rent
Refine
Return
and Refuse..... to do what is not good for our environment. 
I know it's easy to say, difficult to do...but I do believe it's all in the first step.  I'd like to continue my tiny efforts.  At the same time, I'd like to welcome your idea or efforts of environmental awarness.