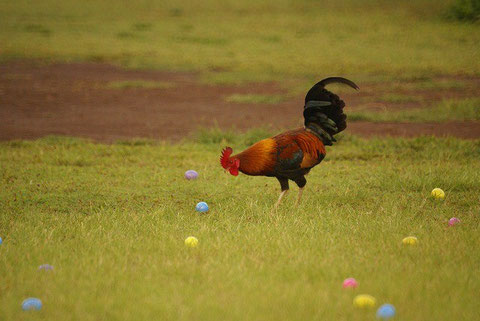 Happy Easter!  I am happy to celebrate this day of Easter.  It is my belief that Buddhists can celebrate any day when everybody is happy.   It doesn't have to be Buddha Day or Bodhi Day, but we can celebrate Chirstmas, St. Patrick Day, Easter and so on. What we wish is may all be happy.
So today's service here at Koloa Jodo Mission shall be a Buddhist Easter Sunday Service and I'd like to offer prayer to the Jesus Christ.  Also I'm going to talk about something about egg and later I will make Egg-Nigiri Sushi.  So I hope to see you soon here.  The service starts at 10:30 a.m.
According to American Religion Identification Survey (ARIS) done in 2008, 76% of American Population (Adults) are Christians and total estimated numbers are about 173,402,000.   On the other hand, total estimated numbers of Buddhists in USA is 1,189,000 which is only 0.5% of American population. 
What a difference!  However,  population of Buddhists dramatically increased from 1990 to 2001 and in recent years, it is slowy increasing.   The reason why it increased was maybe because of increase of immigrants from Asian countries which included myself, but I believe there will be much more Buddhists in the future.....Why?  
The reason is what I'm trying to do; to share more ideas about Buddhism with you.  If you are interested in this answer, please keep reading this blog.   I'm hoping I could introduce more merits of learning Buddhism in the future.