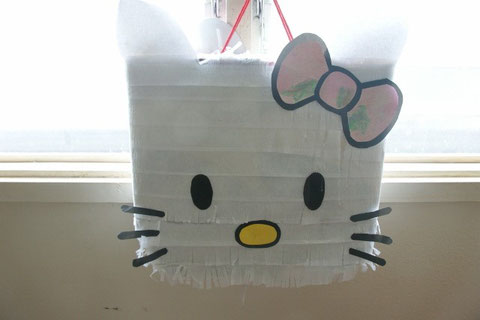 My wife has made a Piñata(ピニャータ) for our dauther since we are going to have her birtdhay party today.  When I was about to buy a Piñata at Walmart, she insisted "No need, no need.  I'll make it."   I defintely thought she wanted to save money, but I was wrong.  She told me she couldn't find what she liked at stores, so she decided to make a Piñata by herself out of Cereal boxes.  I think I have a good wife.
When I was in Japan, I had never heard of a word, "Piñata" and it's custom, but I have learned it was possibly originated in China, and then its custom went to Italy, Europe, and Mexico where today's style was established, and then came to Hawaii.
I am always grateful for living in Hawaii, not only because of the good climate, but aslo thanks to the opportunities to meet multi cultures that many people from different places have brought here.   
Today's birthday party is "hello kity party on the beach", according to my wife.   I wanted to invite our Koloa Jodo Mission Ohana, uncles, aunties, and friends, but now I have to excuse.....   Thinking of lots of work to do, we only invited her girl-classmates and a few good friends of her.  I'm sorry but members and friends, please remember you are always invited to the Sunday Service.  Tomorrow, March 17, is St. Patrick's Day!  I'm going to make good food (I hope) and uncle Mo is going to play Irish music at the service!!!   Hope to see you there.
P.S.
Trivia:  the Sanrio products of "hello kity" were born in 1974 in Japan, but they say the idea of selling character goods came from the American comic of Snoopy!