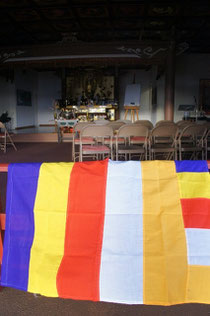 On the day before Thích TríThiện left for California, he stopped by at our temple to say goodbye with surprise gifts of food, Vietnamese tea and incense.  He also donated an international Buddhist Flag which consists of vertical stripes. 
Especially, I was very happy to receive this flag because this was something I wanted to have for our temple.   They say this flag has been used at various Buddhist temples for a long time.   In 1950, it was designated as an international official Buddhist flag.  The colorful flag actually represents Buddha's greatness and it is said that when Buddha was enlightened, those six kinds of lights came out from the Buddha's body.  They are blue, yellow, red, white, orange, and combined five colors.
Color Blue came from Buddha's hair, representing Buddha's spirit or guts.
Color Yellow came from Buddha's body, representing Buddha's golden teachings.
Color Red came from Buddha's blood, meaning Buddha's compassionate efforts to save us.
Color White came from Buddha's teeth, representing Buddha's purity to ease our anger, greed, and desires.
Color Orange came from Buddha's kasaya-robe, representing Buddha's perseverance.
Combinations of five colors came from Buddha's aura, meaning Buddha's essence of light.
I hope this flag will be a good reminder that we Jodoshu are an international Buddhist Ohana which welcome everybody.  At the same time, I will never forget Thích TríThiện and his kindness.  I sincerely wish him a success in California.   Bon Voyage!