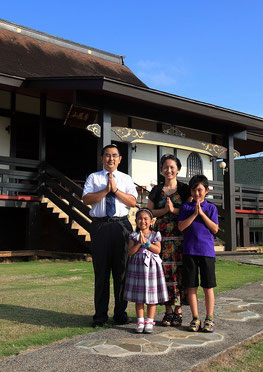 The year 2012 was started with making sushi and ended with Sushi. I made Sushi again and again, and ate so much of leftover of Sushi again and again and again. Look at the picture! I look so chubby! (I should have wore a black robe which might make me look skinnier. ) 
The New Year's Eve was one of the busiest days of the year. I was busy for lawn-mowing in the morning, cleaning up the social hall, bathrooms and kitchen, shopping and preparing for the refreshments of dinner and Soba, making Sushi, going to see the fireworks at Poipu, and then coming back for the service here.
I usually don't regret what I did, but this time, I regreted.  My new year was started with a feeling of regret.  I should not have made Sushi....while looking at leftover of Soba noodles, Sekihan, and Sushi.  My efforts and time for making Gochiso....seemed to be ruined because of so much leftover.   In addition, I was not sartisfied with what I talked during the service.  I actually forgot what I was planning to speak! 
So I've decided this year.... I won't make Sushi when I do have a service.  Instead of spending some time for Sushi, I'd better spend time for preparing the Dharma-Talk.   After all, I am here at Koloa Jodo Mission not because I am a sushi cheff, but because I am a minister!   I started to think it is not Sushi, but Dharma which could encourage and save people.   
While thinking of my regret, all of a sudden, I realized one good thing about my regret.  I realized this should be a good beginning of the year.   Because of this bad start, I was able to wish to be better.  Because I felt regret, I did have a feeling that I want to improve my service.  If I were sartisfied with what I was doing, I would never wish I want to be better.   It is my feeling of regret and dissartisfcation that could potentially make me better.   So I think I've had a good start!   What do you think?   I believe everyone, too, can be positive by learning the teachings of Buddha.
Happy New Year!