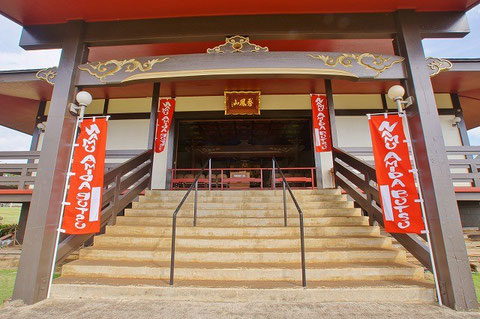 I have recently installed Nobori which literally means , "Banner" or "Streamer."   This Nobori, saying Namu Amida Butsu, was produced by Rev. Jeff Koji Ezaki of Haleiwa Jodo Mission a few years ago. 
Actually, I was not interested to buying this Nobori when he asked me.  It sounded expensive.  But I have changed my mind since Aunty Rebecca and Yayoi told me...something like a streamer could bring more visitors here.  I don't know whether it works or not yet, but I am truly sartisfied with the apperance of the temple.... temple looks better with these Nobori.  Don't you think so?
Now, I'd like to thank supporters who gave me offerings.   Also my sincere Mahalo goes to Rev. Ezaki who gave me great discount!!! I was planning to buy four Nobori, but was able to buy five Nobori thanks to Ezaki Sensei.