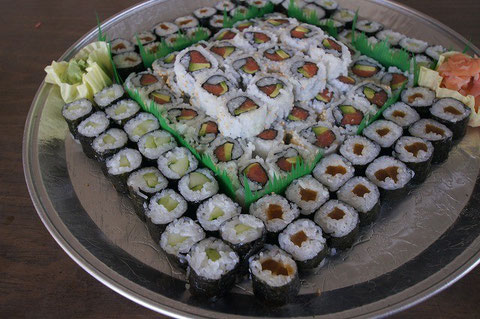 Last night, I was surprised to see my father's name at this website guestbook.  I didn't tell him about this website yet, but he came.   Oh my goodness, he left a comment!
Now I'm very curious if my brother, sister, relatvies and friends are also checking this site.   Since this is already open to public, I should not dwell upon who are visitors, but I will be happy if you can tell me you are visiting.
Needless to say, internet is to connect place to place, organizations to organizations, and people to people.  Interestingly, the more I do surf interenet, the more I know people are connected.  I am actually amazed by people's connections.   This is like, the more you know the world, the smaller you feel the world.
Last summer, I heard a very interesting story from my father.  In 2011, my father had a visitor who came to pray for his ancestors at my father's temple gravesite.  He is a retired Sushi cheff in L.A.  His name is, I believe, Mr. Furuki.   To my surprise, Mr. Furuki knew that I was a minister in Hawaii and I was staying in L.A. before.  He seemed to know my name through his customer.   If I knew this, I should have visited him to say hello, but when I was staying in L.A., I didn't know.
What made me more surprised was Mr. Furuki was the one who invented "california roll."  What a small world!  I didn't know I had a Sushi connecion here and there. 
Yesterday, again, I made a Sushi Platter.  The brown Sushi in the picture above, is my special "Nara-zuke-Roll."   I got an idea of Narazuke-Roll, because I had received donations of home-made Narazuke before, from Mr. Funamura and Mr. Okamoto.  Their Narazuke were ono (delicious in Hawaiian Language) but I found a combination of narazuke and sushi were even better. 
(Speaking of a roll,) I think, one of my roles as a minister is to enrich the connections among people, cultures and nature.  There should be countless invisible connections among us and it will be wonderful to know that we are connected each other.
BTW, my mother has a uncle who has lived in New York for over 50 years.  His name is Santaro Tanabe. I knew he was an artisit but I've never met him.   I'm hoping some day, I can meet him or at least I want to meet the person who knows him.